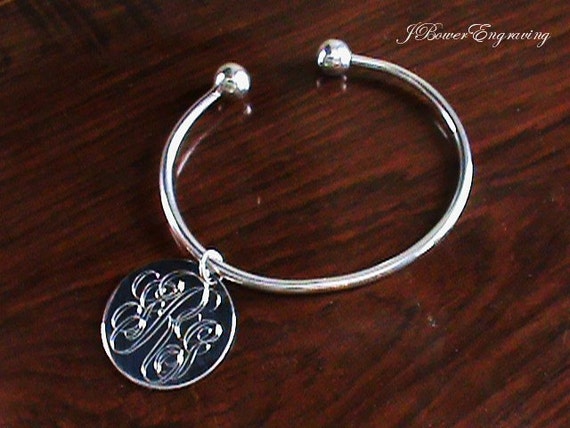 I love this fantastic personalized bracelet!
The pretty
Hand Engraved
Monogrammed Cuff Bracelet
by
JBowerEngraving
on Etsy has a 1" silver disc attached
that was hand engraved by this talented artisan.
Her work is not done with the help of a machine;
it is engraved the old fashioned way, by actually
carving the monogram out with a very sharp tool called a graver.
This work takes patience and a very steady hand!
Her shop is full of beautiful personalized jewelry
that is perfect for wedding party gifts, holidays, retirements, anniversary gifts
and any occasion that calls for something special!
Guys wear jewelry too! We like simple styles that tend to be minimalist in nature,
straightforward and easy to wear styles - attractive,
kinda macho designs that have a seriously masculine feel.
This is why we like things like curb chains. This ring is perfect for all those reasons, and more!
I made this ring to satisfy a man's desire to look good while keeping it simple.
This ring is totally collapsible ...
the links are not soldered together. I simply split one link,
connected it to the other end and then soldered it closed.
So the ring moves with the finger, and is
very comfortable to wear! You can find this
curb chain ring
in our
Jewelry24Seven Etsy shop
with a lot more of our handmade jewelry!
Terry made these fabulous
hoop earrings
, dressing them up with
black onyx washer style beads and sterling silver
wire that she hand coiled, separating the
onyx beads into sections. These are quite fashionable and lightweight,
so they're very comfortable to wear. These amazing
hoop earrings can be found on the home page of our
web shop
!